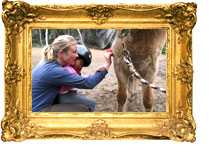 Click here to view a movie about the "Brady Program".
The James S. Brady Therapeutic Riding Program for children with special needs is the main beneficiary of Horses in California, Inc., a non-profit organization.
The "Brady Program" helps disabled and disadvantaged youths in the San Francisco Bay Area by offering horseman ship and horseback riding lessons as a physical or social therapy alternative.
Under the direction of personnel who have been certified and insured by the Equine Associated Growth and Learning Association, our program has helped over 200 mentally or physically challenged children. Our students suffer from autism, cerebral palsy, muscle weakness, sight and hearing impairment, learning disabilities, or social disorders. Each student participates in a specially designed program that is individually suited to his or her needs. Children learn anatomy, grooming, and riding and begin to develop friendships with the horses and other riders. We use specially trained therapy horses at weekly lessons in Bercut Field Golden Gate Park San Francisco.
The "Brady Program" has received a Certificate of Recognition from the California Legislature Assembly and Award of Honor from the City and County of San Francisco.
Click here to read testimonials from "Brady Parents"!
"…I used to bring children with disabilities to your program…I always enjoyed those visits! You, your daughters, and all the volunteers were wonderful! The children truly enjoyed themselves and a lot of healing took place...Just want you to know how much I appreciate all you and your staff do for the children and adults."
– Janice Gloe, Retired Recreational Director