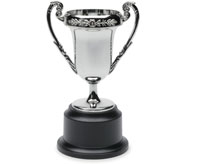 Please donate to the James S. Brady Therapeutic Riding Program!
To make an online donation, please click "Donate":
Find out more about donating >
If you would like to sponsor a specific rider, please contact Horses in California by phone at
415-221-9438 or email.
The "Brady Program" works with other charitable organizations
Mayor's Council on Disability Concerns, Police Athletic League, President's Committee on Employment for the Disabled, San Francisco Volunteer Agency, San Francisco Recreation and Parks Department, United Cerebral Palsy Foundation, University of San Francisco, Youth Quest, National Charity League Mothers and Daughters, and the San Francisco State Nursing and Recreational Therapy Departments.
Past endorsements
Local orthopedic physicians, physical therapists, Shriners Hospital, the North American Cerebral Palsy Foundation, and National Special Needs and Special Education for Developmentally Disabled.
Awards
Certificate of Recognition from the California Legislature Assembly and Award of Honor from the City and County of San Francisco.
Sources of Support
Private donations and fund-raising events such as Polo in the Park, Jumping in the Park, and Dressage in the Park. Volunteers for the program are always needed and appreciated!