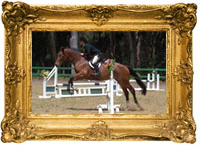 Jumping in the Park is a non-rated schooling show for hunter/jumpers that takes place 3-4 times a year at Bercut Field in San Francisco's Golden Gate Park. This show is held in accordance with the rules and regulations of the United States Equestrian Federation, and is a great opportunity to receive valuable and extensive constructive critique on your riding!
Fantastic prizes are awarded for overall highpoint champion, overall reserve champion, introductory hunters division highpoint champion, elementary hunters division highpoint champion, and low hunters division highpoint champion. Ribbons are awarded for 1st-6th place for each class. All prizes are furnished by the Tal-y-Tara Tea & Polo Shoppe and have included in the past a Fleece Works thera-fleece jump pad, adjustable leather halter with brass fittings and quick-clip release, and horse-care packages.
This event is FREE for spectators with donations to the James S. Brady Therapeutic Riding Program greatly appreciated. Come and cheer on your favorite rider!
To make a donation, please download the Sponsorship form

.
Find out more about donating.
This event is a great sponsorship opportunity. Find out more about being a sponsor.
Volunteers for this event are always needed and appreciated!
If you are a rider, download the Jumping form for more information

.